A Very Frugal Galentine's and Valentine's Day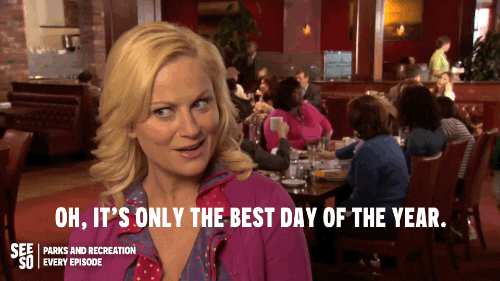 I wrote this post last year and I'm recycling it because I think it all still holds true!
I've got some good news and bad news. The bad news: Valentine's Day is approaching and I'm guessing you haven't made a plan yet (if you have, bravo!) The good news is we've still got a little bit of time to throw together a romantic evening with the one you love. Now, maybe it's just my friends, but most folks I know dread Valentine's Day. For some, it's a reminder of their singleness. For others, it's one of the most expensive date nights of the year.
Whether you're single, dating, or on your 10th year of wedded bliss, Valentine's Day can be pricey and full of unreasonable expectations. So is it possible to be romantic and frugal? I've got some ideas that'll have you and your wallet feeling butterflies.
The Romantic Night In
This first idea is a nice intimate date night in the comfort of your own home. Here's a step-by-step guide to perfecting the romantic night in.
1. Cook Dinner at Home: Instead of spending $200 out for your romantic evening meal, why not make your love's favorite dish at home? Look for deals on normally pricey items at the grocery store ahead of time (i.e. steak, fish, fancy ingredients). You don't have to spend $50 or more on a nice bottle of wine either. Look for something in the $15-$20 range and you'll get essentially the same quality.
2. Rent a Movie: After your superb dinner, provide your date with some entertainment. No, it doesn't have to be The Notebook. If this is early on in the relationship, this is the part where you'll awkwardly try to hold hands or cuddle.
3. Bake Brownies and Eat Ice Cream: A great Valentine's Day date always has dessert. Try baking some delicious brownies! Your effort to cook dinner and dessert will be appreciated. Be sure to head to the bathroom to pick out any chocolate stuck in your teeth afterward. (*editor's note: Food stuck in my teeth is a constant concern for me. I have one tooth I call the "trap".)
I love the idea of a romantic night in because it's not only frugal, but it shows real effort and, in my opinion, is much sweeter than just a night at a restaurant. Just try not to burn the food. Otherwise, this will all be for naught.
The Romantic Day Out
If you're looking for a daytime date, and live in a warmer climate, why not a picnic lunch in a park?
1. Pack a picnic lunch: You can spruce up the old ham and cheese. Perhaps add some avocado and honey mustard? I don't know, I'm just spitballing here. Pack your date's favorite snacks and beverages as well.
2. Go sit in a park and exchange pleasantries: You have to be sweet on Valentine's Day and complimenting your date won't cost you a nickel either. Hold hands and watch as the surrounding wildlife slowly approach in an attempt to steal your leftovers.
3. Go for a hike: Studies have shown time spent in nature is a mood booster. So why wouldn't you take a date on a hike? Be sure to know the trail you choose. We don't want this Valentine's Day to end with you being rescued off a mountain.
The Sensual Date
This date idea is a little more on the risqué side. If you really want to spice it up while holding your bank account down, try this sensual evening:
1. Light candles: Candles set the mood. Hopefully you've got some nicely scented ones already available. If not you can get some super cheap tea lights at your local store. A few candles should do the trick. You don't need to risk burning the neighborhood down.
2. Take a bubble bath: This is for those already in a serious relationship and/or married. Otherwise, it's creepy.
3. Give a massage. Most people enjoy a nice massage. Make sure you ask for permission first.
4. Be in a relationship before attempting this date: I cannot even tell you how weird this date would be if don't really know the other person. I hope it's obvious this date is intended for those already in relationships, but perhaps it needs to be said.
The Educational Date
Perhaps your Valentine's Day date is a fairly new love interest and you're trying to impress the pants off them? PUN FULLY INTENDED. Why not have an educational themed date? Stay with me here...
1. Go to a museum: There are lots of free/cheap admission museums all over this wonderful nation. Try to pick a museum your date may have an interest in.
2. Fake it till you make it: Show your date you're an intellectual by regurgitating facts you read on the exhibit plaques two seconds ago.
3. Questions and conversation: Ask your date what he/she thinks about each work of art or exhibit. Valuing their opinion is not only respectful, but sexy too.
Throw a "Galentine's Day" Party
Honestly this is my favorite idea. All my fellow "Parks and Rec" fans know what I'm talking about!
1. First watch "Parks and Rec" (Season 2, Episode 16): If you really want to understand the spirit of Galentine's Day, you'll need to watch this episode and let the fabulous Leslie Knope (Amy Poehler) describe it for you.
2. Make frittatas: Galentine's Day is all about appreciating your gal pals. This cannot be properly done without brunch. You could go out to an expensive champagne breakfast, or you can host a potluck style late-morning meal at your home!
3. Drink champagne: Good champagne is overrated...if you mix $3 champagne with orange juice, by the third glass I honestly can't tell the difference.
4. Technically Galentine's Day is on the 13th, but I'm sure Leslie Knope won't mind if you celebrate it on the 14th.
I've given you five foolproof Valentine's Day ideas that won't break the bank. Most importantly, whether you're celebrating with your love or your friends, Valentine's Day is about showing kindness and appreciation for each other!