Hi, it's me, Oprah Winfrey's biggest fan. I was born a mere six months after The Oprah Winfrey Show debuted and I watched it with my Mom and then on my own until May 25, 2011, when the greatest talk show ever created signed off for the last time.
(I have an autographed O Magazine hanging in my office because why wouldn't I?)
My love of all things "O" has long been a joke among family and friends. People will text me when she's on TV, or if she recommends something new, or if she's literally doing anything anywhere...my people make sure I stay in the know.
I've admired Oprah for as long as I can remember. Maybe it's because I had humble beginnings and big dreams. Maybe it's because I always wanted to be on TV. Perhaps it's because she's a fierce female entrepreneur and trailblazer. I think it's a combination of all of the above. She's a beacon of hope for girls and I always found her voice to be the most powerful.
I wrote her letters as a child. I asked her to come speak at my elementary school. I scheduled college classes around her show. I've seen her speak live now twice. I read the books she recommends. I once bought a cardigan because Oprah said it was her favorite. I Stan for Oprah and I don't care who knows it.
(I was kind of a weird kid. In addition to writing letters to Oprah, I also used to play baseball with my glove over my face and spent many hours perfecting my Steve Urkel impression.)
Lately, I've been evaluating my Oprah fandom and looking at the reasons why she's meant so much to me. As I get older, I'm aware I have the potential to be a woman of influence. Probably not on a stage as big as Winfrey's, but I have a platform and I hope the young women I speak with at high schools and colleges will see me as a role model and someone worth emulating.
Here are the qualities I see in Oprah that I try to emulate myself:
She asks the hard questions
Oprah doesn't beat around the bush. She asks tough questions because that's how you get to the truth and within truth there is knowledge and wisdom. It's not easy to have difficult conversations. God knows I avoid tough talks whenever possible, but sometimes my family, friends, and clients need me to ask the hard questions to help them get through and find the right solution to a problem. Asking tough questions doesn't mean you're rude or mean, it just means you want to speak honestly and get to the root of the issue. Oprah and Howard Stern are the two best interviewers alive...don't @ me.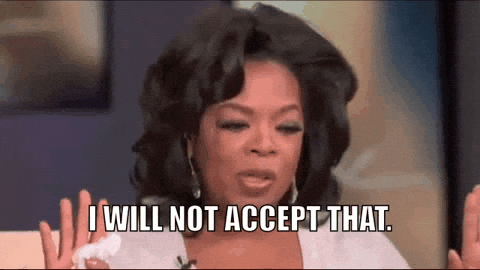 She lifts women up
The world is difficult for women. We know this. I've always loved how Oprah goes out of her way to lift up other ambitious women. She's smart enough to know there's room for everyone at the top. I too often compare myself to other women and end up either picking them or myself apart in my head. There's no need for this. We have to support each other. Sometimes just a "like" or a "share" is enough to lift a lady's spirits. I know I love it when other women do this for me. This week I made an extra effort to share the businesses and accomplishments of a few different women in my life via social media. I don't do this enough, I know that. But you know what? Not only were the women appreciative, but damnit it feels good to give others a little love.
She's a self-made billionaire and is unapologetic about making money
Oprah recently told Ellen the last time she went to the bank was to deposit a check for $2 million. A lot of people were turned off by that "elitist" comment. Not me. I thought it was bad ass. This woman has earned every penny. She came from nothing and is enjoying the fruits of her labor and is generous to boot. I believe Oprah has helped money become less of a taboo subject among women. We shouldn't be ashamed of our ambition and desire to be wealthy. We can do a lot of good with all that money and power, ladies.
She speaks with conviction
I made myself a promise to be more decisive last year and it's made a huge impact on my life personally and professionally. Oprah speaks with conviction because she knows her words have power. She also understands nothing is accomplished through silence or indecisiveness. Conviction conveys confidence, too. I've found when I'm doubting myself the most, it's helpful to speak with conviction and certainty. Others will trust you and you'll start to trust in yourself.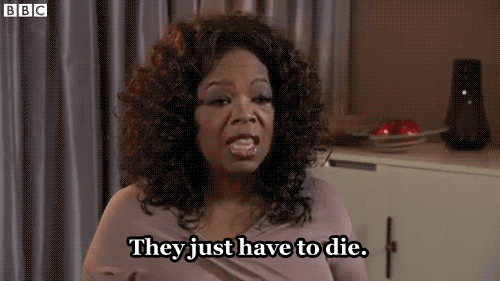 She's vulnerable and honest
Oprah's been very open about her trials and tribulations. She's unafraid to discuss her mistakes and the lessons she's absorbed through them. The ability to be publicly vulnerable and honest is extremely powerful. She shows us that these are not weaknesses, but our greatest strengths. Admittedly, being vulnerable is not easy for me. I don't like admitting I was wrong or that I screwed up, but I understand that being honest and open makes me a more accountable and trustworthy person.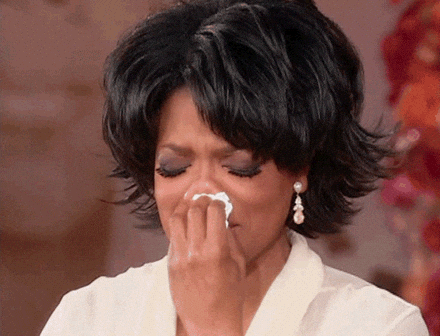 She's a pioneer
There's no question Oprah kicked down countless doors for women around the world. That takes courage, a thick skin, and a determination that does not waiver. Maybe I'll be a pioneer for women who want to work write humorous personal finance books? Very niche market, I know.
I'm not Oprah. I'm just a financial planner who occasionally writes books and comedy, but I'd like to embody the traits listed above. I know I'll fail more often than not, but hopefully someday someone will remember me as a person who tried to make a difference. While I'm over here building my mini-empire and using my voice for good, I'll continue to Stan for Oprah. That I promise you.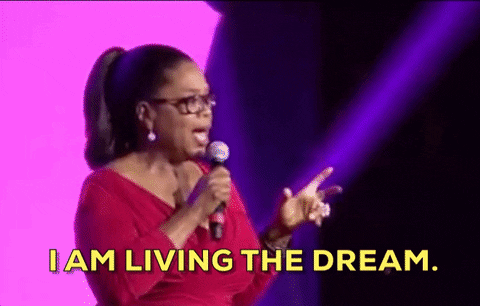 Next week I'll write about my Backstreet Boys fandom. I'll start the essay with an in-depth look into why Hey, Mr. DJ is the most underrated song of all time. I'll conclude with a defense of AJ McLean as the best member of the group.